Let's be real: Bandai is damn good at marketing. Whether it's firing direct marketing algorithm beams directly at us by releasing a kit from our favorite series or using a Beam Magnum called FOMO to entice us to make a purchase through P-Bandai, Bamco knows how to get it's consumers to spend money.
Most builders have a backlog of some kind. Whether it's just a couple kits or a storage unit full of unbuilt kits, most of us can relate to having a stack of gunpla or plamo that we just haven't found the time or inspiration to build yet. Maybe you want to work on each kit straight through from start to finish or maybe you just don't have room for everything that's in your backlog now. Whatever the reason is we can all identify with the thought "I should really build what I have before I buy more kits" and the subsequent problem of following through on that.
If your backlog is getting out of control you should consider selling or hell, even gifting kits to friends or loved ones. Do you have a build plan for everything in your backlog? Maybe it's time to part with some kits that you got swept up in the hype for and are languishing away with no real plan for their final form.
Of course, the other option is to get building which is where I landed. I generally only buy kits after multiple months of wanting them or when I have a rock solid idea of what I'd like to do for the kit. Life still happens though and after 14 years in the hobby my backlog has still managed to turn in to a mess due to life having a lot of events that happen.
Behold the horde: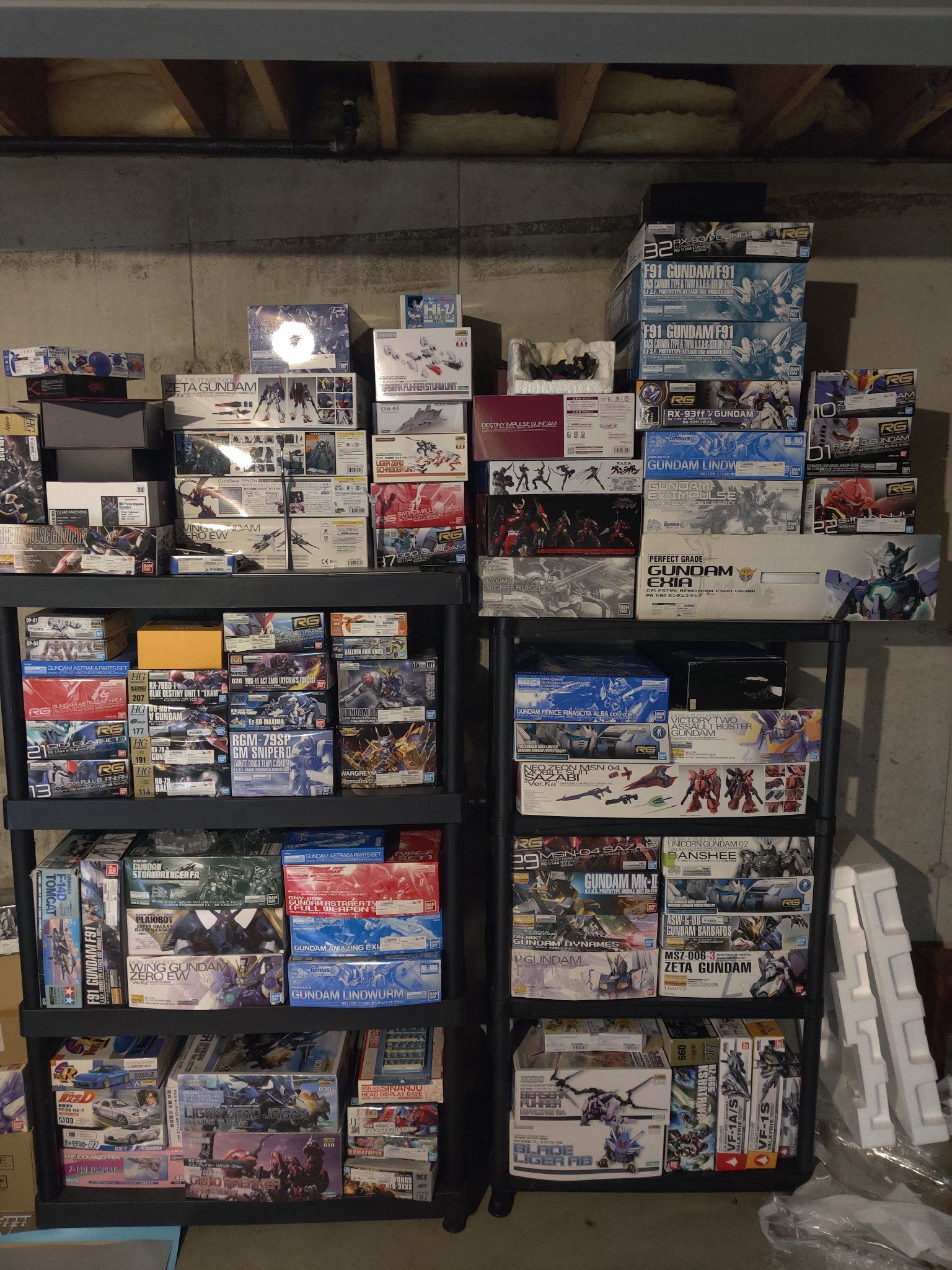 I recently realized that even if I fully finished one kit a month, every month, it would take me until 2030 to get everything on these shelves finished. Do I really need to be adding to my backlog when I have enough stuff to keep me busy for multiple years already in my possession? "One fully finished kit a month" being incredibly optimistic about the building/painting speed too because can you see anyone finishing a Perfect Grade kit in a month, even if it was already built, when they've got a spouse and 6 month old baby to take care of?
Yeah, me either.
So here's the thing: "Perfect" is the enemy of "Done". I'm going to snapbuild these kits: no detailing, no panel lining, nothing. Just get these bad boys snapped together. I keep a gunpla journal that is full of ideas for every kit that's on those shelves so I don't forget what I was thinking when I bought them but time to paint is at a premium these days (and upgrades need to happen to my hobby space for safety reasons) so my idea to keep me connected with gunpla as a hobby is to simply get to work building everything in my backlog. I can always go back and paint the kits later after all! As much as I enjoy building gunpla and taking in Bandai's engineering, what I really love to do is paint kits so if I can reach a point where I can just go downstairs and grab any kit from the shelf and start painting it I'd call that a big win.
By my count, there are 86 kits in my backlog. Here's the list:
PERFECT GRADE
---
Gundam Exia

Unicorn Gundam Perfectibility Divine

Unicorn Gundam 02 Banshee (Final Battle ver.) Perfectibility Divine

Unicorn Gundam 02 Banshee (already painted and "finished", but needs some repair work)

Daban Unicorn Gundam Perfectibility Divine (being built as standard red psychoframe Unicorn)
MASTER GRADE
---
Sazabi ver. Ka

Nu Gundam HWS ver. Ka w/ double funnel set

Zeta Gundam ver. Ka

V2 Assault Buster ver. Ka

Wing Gundam Zero Custom ver. Ka

Shenlong Gundam (Liaoyo unit)

Gundam Deathscythe (Rousette unit)

Tallgeese Fluegel

Gundam Heavyarms (Igel Unit)

Gundam Sandrock (Armadillo unit)

Epyon
MASTER GRADE
---
Unicorn Gundam (OVA ver.) w/ HD cage

Unicorn Gundam 02 Banshee Norn

Gundam Mk-II

Gundam Barbatos + Expansion parts

Gundam Ex Impulse

Jesta x4

Wing Gundam Rinascitta Alba

Dynames + Fortune Meow's Dyanmes R3 conversion kit

Dark Matter Exia + YJL Amazing Exia ver. 1.5 conversion kit

Amazing Exia
MASTER GRADE
---
Force Impulse + YJL conversion kit

00 Gundam Seven Sword

Astraea Type-F

GM Sniper II

Gundam Stormbringer F.A.

F91 Gundam F91

Kamper Schwer

Gundam Astray Red Dragon
RE/100
---
Gundam Lindwurm x2
HIGH GRADE
---
Gundam Heavyarms x2
EZ-SR-MAXIMA
ACT Zaku
Blue Destiny Unit 1 "EXAM"
Turn A Gundam
Ball (twin set)
Silver Bullet Supressor w/ LabZero conversion kit
Kshatriya
REAL GRADE
---
Sinanju
Sazabi w/ Madworks conversion kit
Nu Gundam FF
Nu Gundam w/ Model Bingo Mass Production Nu conversion
Unicorn Gundam Perfectibility x2 (one built, one untouched)
Unicorn Gundam 03 Phenex
00 Qan[T] x2
00 Seven Sword/G (Inspection colors)
Astraea Type-F
Astraea parts set
Destiny Impulse
Sword Impulse
Tallgeese 3
Zeta Gundam
RX-78-2 Gundam w/ Model Bingo RX-78-6 conversion kit
God Gundam
Gundam Astray Red Frame
Strike Freedom
OTHER KITS
---
Kotobukyia HMM Liger Zero Jager + Schneider CAS
Kotobukyia HMM Berkserk Fury + Strumm CAS
Kotobukyia HMM Geno Breaker
Kotobukyia HMM Blade Liger AB
Kotobukiya CFA-44
Aoshima RX-7 FD x2
Aoshima RX-7 FC
Tamiya F-14D "Black Lions"
Hasegawa F-14D "IDOLM@STER" Miura Azusa
Plaiobot Gurren Lagann
Plaiobot Lazengann
Plaiobot Super Galaxy Gurren Lagann
Figure-Rise Standard Amplified Wargreymon
Bandai VF-1S Valkyrie + Super parts set
Bandai VF-1A/S Valkyrise + Strike parts set
B-Club 1/144 Hi-Nu
Some of them are already started/built so we're not starting from completely nothing but the numbers aren't exactly in my favor. Kits in bold have been completely assembled (total: 16/85) and kits in italic have been started but I'm not done sanding everything on them (total: 21/85) giving me a final tally of... 37/85 kits worked on.
I'm going to document my journey to get these kits built. I am not aiming to do a review of each build (there are plenty of other content creators out there who can provide information like that to you) but I will be covering a little background on how the kit came to be in my backlog, my broad thoughts on each kit, and what my plans for painting the kit are in the future.
To wrap this post up: I'm actually less than thrilled that my backlog has reached such a high quanitity. I'm a proponent of keeping your backlog small and while I've accumulated some of this stuff years ago...most of it is more recent than I'd care to admit. I feel like realizing how much stuff is in the backlog has been useful for turning off the urge to buy the "next and best" kit Bandai is about to release (be it the RG Epyon or the undoubtedly fantastic WItch from Mercury kits) and focusing on what I already have piled up, or dedicating some time and energy to my other hobbies. It's healthy to have different hobbies, after all!
But in the meantime, I hope you enjoy watching me descend in to madness trying to tackle such a huge backlog. First up on our journey: the MG 00 Seven Sword! Keep your eyes parked here for a post about it.
~Lupes